Extraordinary performance, meet removability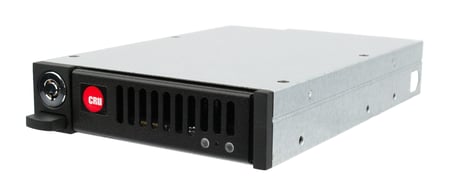 Powerful removable for PCIe/NVMe SSDs
CRU provides rugged and reliable removable drive solutions for cyber/data security and data transport in Federal agencies, the military, and many other industries.
The Data Express® QX310 v2 removable drive makes use of standard form factors to bring rugged removabiility to PCIe/NVMe SSDs. The QX310 is installed in standard 3.5" or 5.25" drive bays, and houses M.2 and U.2 form factor PCIe/NVMe SSDs in a sturdy carrier. The design of the QX310 makes it easy to eject, swap, transport, or secure data stored on PCIe/NVMe SSDs.
We have been working with industry partners to develop and test a removable drives with native PCIe interface. PCIe/NVMe storage technology is steadily making its way into computers and other devices, and as we have done for many generations of storage technologies, CRU is pioneering removable solutions.
Product Dimensions

5.91" x 3.99" x 1.02" (150.1mm x 101.4mm x 25.8mm)
Fits into a 3.5-inch bay

Product Weight

(frame and carrier)

0.97lbs

(442g)

Drive Types Supported
M.2 and U.2 NVMe solid state drives
Stay tuned for further updates about the QX310 and PCIe/NVMe removables.To find out more, including lead times and pricing, please contact sales@cru-inc.com.
Popular CRU removable drives
| | | | | |
| --- | --- | --- | --- | --- |
| | | | | |
| 5.25" bays | Short 5.25" bays | 5.25" bays | 5.25" or 3.5" bays | Optical bays (9.5mm) |
| DP10 | DX175 | DX115 | DP25 | DP27 |